Cabman Smart Vehicle
Your company and your drivers smartly en route
Did you know that your vehicles have a wealth of information? From driver behaviour to seat sensors, you can get it all from the vehicle with Cabman Smart Vehicle.
Cabman Smart Vehicle consists of four options. We have listed them for you below. This way, you can make the choice that fits your company best.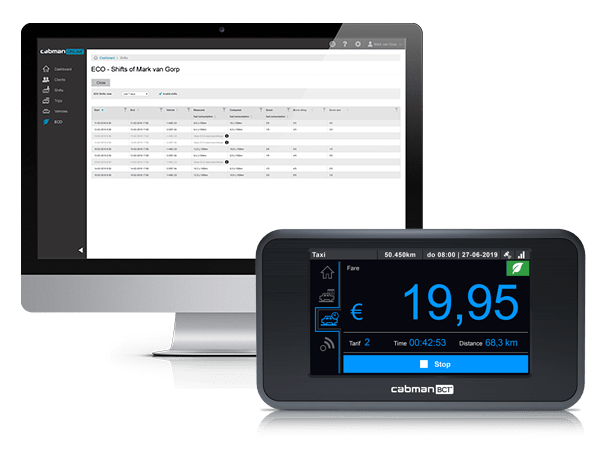 Cabman Driving Style Analysis
You may already be familiar with Cabman Driving style analysis, which is now part of Cabman Smart Vehicle. Cabman Driving style analysis for the Cabman BCT or MDT gives you insight into the driving behaviour of your drivers. All data is collected by the BCT or MDT and fed back to an online portal. In addition, the Cabman Driving Style Analysis provides feedback to the driver during and after the shift via the BCT/MDT. The drivers receive report cards based on the national average and information on the following aspects:
Braking behaviour;
Speed in bends.
You do not need any additional hardware for this module and it can be easily switched on.

Insurance Data API
We offer the Insurance Data API in cooperation with various partners. We make sure that the data from your BCT is delivered to a party that can make it transparent for insurance companies. Every second of data is sent to the relevant insurer. No additional hardware is required for this module.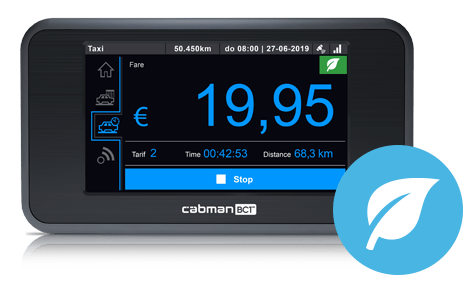 Cabman Driving Style Analysis+
Cabman Driving Style Analysis+ works with the help of a CAN-interface. This is a box that is placed in the vehicle. The box can read out more information than our BCT can and therefore offers the possibility to monitor even more signals from your vehicles. With Driving style analysis+ you can read out the following signals, among others:
Braking behaviour;
Speed in bends;
Fuel consumption.
Cabman Vehicle Data
When you choose for Cabman Vehicle Data, you need to use a CAN-interface. Cabman Vehicle Data offers the possibility to read out a large diversity of signals and link them back to an online dashboard. The following signals, among others, can be read out:
State of charge (electric vehicles);
Seat sensors;
Belt sensors;
Distance sensors.
Is the signal you are looking for not listed? Then please contact us. In many cases we can extract even more information from your vehicle.
Would you like more information?
Would you like more information about Cabman Smart Vehicle? Then please contact our sales department. You can reach them at +3113 460 92 83 or info@cabman.eu. We will be happy to tell you more about the various possibilities.
Have a look at our other products: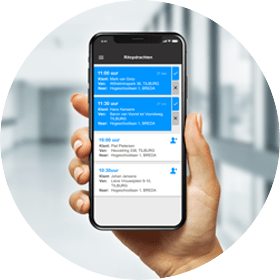 BCT Remote
Cabman BCT Remote is the app that gives you mobile insight into all trip information regardless of where you are. Accepting and reporting trips is easy from a distance via the app.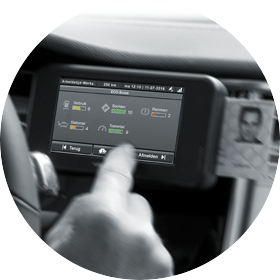 Cabman BCT
The Cabman BCT not only makes it easier to keep track of work and rest times, but the device can also receive and report empty journeys using data communication.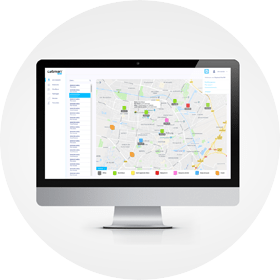 Cabman Data
Cabman Data is the online platform that gives you more insight into all the data from the BCT. The platform offers a live overview, various reports and much more.