Passenger information
Extensive dashboard for your passenger
With the passenger information app, your passenger has access to a personal dashboard on a tablet or second screen in the taxi. The passenger information app also provides immediate feedback to your passenger concerning the status of the current taxi ride. The passenger will therefore always know about fare information, rate calculation and expected arrival times, and can see the current location on a map.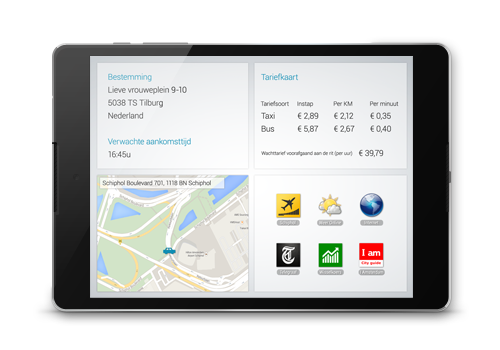 Ride information and infotainment
Simply install the passenger information app on a tablet and attach it to the head rest in your vehicle, for example. With this app, the passenger can check all ride information, as well as access various preselected apps.
Information screen for your passenger
Use the passenger information app on a large screen in your vehicle. This solution is perfect for group transportation. The screen shows all participants with their expected arrival times. It is also possible to use this screen to show advertisements.
Availability
The passenger information app is only available for Android.
We are glad to recommend hardware required for this app.